iptv Web player for xtream codes and ui only
Unlimited users, reseller and super reseller accounts
You only pay us once and use forever on your own server
---
Add to basket ($30)
Compare players
---
Web player Disclaimer
We are not offering any kind of Streams, Subscriptions, content or anything related to
Streaming Services and IPTV Services.
We are only offering the Software solution for IPTV
We do not endorse the streaming of copyright protected material without permission of the copyright holder and no affiliation with any third-party provider what so ever.
We are a php developer company only, we create php scripts and software
---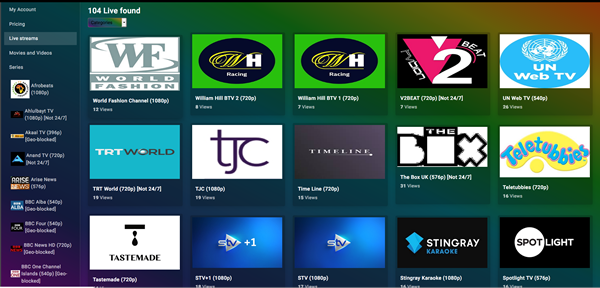 Working demos
Player Demos
Admin Demo
Reseller Demo
New feature
Pay per view plugin, you set price and length of rental
---
Test Player and smarters login information
Username: 123
Password : 123
Smarters url : http://player.phpsmareter.com
---
---
Requirements
---
Just to start with
---
VPS, Server or shared host
LINUX Os, ubuntu or centos
Source guardian loader
XTREAM codes or ui reseller or owner
PHP 5.6 - 7.2
1 Empty mysql database
8gb Ram
2 core cpu
1gb Hdd
Brand new feature
Brand new! Pay per view plugin
Sell single live streams on a ppv basis
You set a price and when purchased on store it will automatically deliver content
This is for live streams only a the minute
VOD Coming soon
Xtream codes and ui supported
Key Features
Uses xtream codes api to stream your channels inside player.
Can use existing xtream codes lines and accounts.
each line are kept seperate and uses only 1 connection per session.
Each account has its own player that will login to xc and stream the content for the logged in account.
Can have xc ui on one server and player on another.
Player can run on basic shared host with source guardian installed.
Free translation to your language(Front-End only).
Existing Subscriptions
Don't worry if you have 100's or 1000's of existing users.

This player will work with any existing users out the box.

No need to create lots accounts...

it will automatically work with any active subscription on your xc server
Resellers on Xtrame codes or ui
If you're a reseller fore xc you can still use this player.

XC Resellers can use player for player accounts.

To create accounts the server must have reseller api enabled.

Accounts created manually can still use player.
Player doesn't need to be on same server as xc
Player can run on basic shared host with source guardian installed
Free installation and configuration
No technical knowhow needed, we can do all the complex stuff for you
We will fully install free
We need CPanel info or ssh login info.
if yours is a standard install, All you have to do is send your login info.
About
This xtream codes and xtream ui
Use streams directly from xc without uploading playlists
import all Live streams at once
import all VOD streams at once
Just log in to the admin panel and fill in 3 text boxes and click save
7 Day money back guarantee
Free updates for life
No hidden fees, What you see is what you pay.
Lifetime license.
Low cpu, ram and hdd usage.
---
Can be used with or without xtream codes.
Does not require a media server.
Use any valid m3u8 source.
Can run on shared host with source guardian installed.
PHP 5.6 to 7.2 Required
Free updates for life
Never pay a penny extra,
lifetime updates
lifetime license
Guarantee
---
Supported Browswers
---
Supports most modern browsers
Amazon Fire TV with silk browser
Amazon fire tablets with silk browser
XBOX one browser
PS4 Browser
Ipad
Ipod touch
IPhones
Macbooks
Samsung tablets
Samsung phones
Windows pc
Chrome
Sefari
Firefox
Internet explorer
IOS Browser
Android Browser
Supports many many more devices that have a modern browser.