PHP movie streaming script
---
This product can run on cPanel and Shared host with source guardian installed
---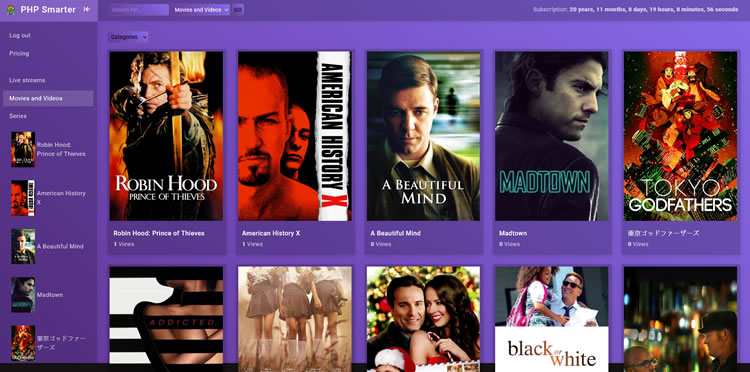 Working demos
All themes included with purchase
---
---
PHP movie streaming script
---

Our products are not wordpress plugins, they are stand alone php scripts built by us.
---
PHP Movie streaming Script
Welcome!.
Here we have a PHP Based script.
Sell subscriptions to your users like other streaming providers.
IMDB Api support
Get movie info for your streams quickly by searching api in admin.
Stream mp4 video to your users
Adding Content
Add streams from archive.org
Add streams fro m3u upload
Upload with browser
Supported devices
Modern Web browser
Smarters APP
XCIPTV App
Amazon Fire TV with silk browser
Amazon fire tablets with silk browser
XBOX one browser
Ipad
Ipod touch
IPhones
Macbooks
Samsung tablets
Samsung phones
Windows pc
Chrome
Sefari
Firefox
Internet explorer
IOS Browser
Android Browser
Supports many many more devices that have a modern browser.
Selling your content
Sell your streams on a subscription basis like other major providers
You set price and length.
Example : 1 month for $10 or 12 months for $60...or any other combination