Stalker / Ministra Billing portal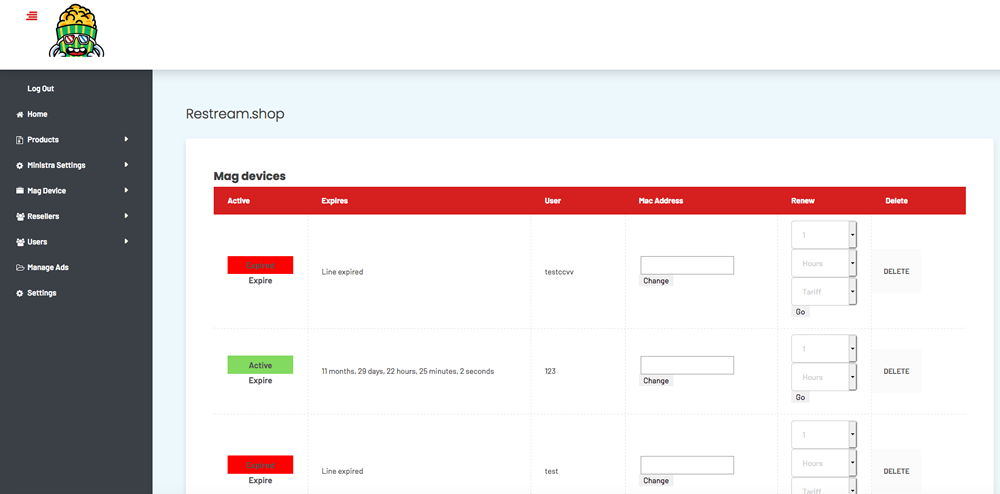 Working demos
true
---
Important notice
---
We are not selling ministra portal, Ministra if a free OTT middleware iptv server.
You can download and install ministra free from infomir.eu

We do not provide ministra portal, you need to get your legit copy from infomir.eu and install on your vps .
---

All we provide is the billing software we have developed.

Our software Makes ministra automated with automatic activation / Deactivation.

Reseller panel for you to add your own resellers or super resellers
---
All Ministra, stalker portal apps and mag devices supported, Including...
Andoid Apps
IOS Apps
Roku
Mag stb's
STB Emu
Smart tv stalker or ministra apps
---
Activation Files required after purchase.
We send activation files withing 24 hours of purchase.
---
What is IPTV Ministra TV (Stalker Portal) Platform ?
Ministra TV (Stalker Portal) platform is a free IPTV middleware platform for MAG STB (Set Top Box) devices.
Our ministra billing portal managed your users automatically, Front site to sell your mag subscriptions with automatic deactivation on expire day.
---
No limits or linkback
You can have unlimited clients.
Unlimited resellers
Unlimited Super resellers
Zero linkback to us.
Remove all links and images pointing to us in admin at no extra cost.
---
Reseller credits and plans
You can create reseller and super resellers on a credit based system.
Resellers can add new mac and stb users for streams.
Super reseller can create reseller account and add new mac and stb users for streams.
You set the credits required for a plan, eg.. 100 credits for 12 month mag subscription.
You can try unlimited amount of credit plans
---
New features
Ability to add Super resellers, Super resellers can add their own reseller accounts
Automatic activation and deactivation of client accounts
Youtube plugin to add unlimited youtube videos to your portal
---
No branding or link back
Use your own logo
slogan and copyright message too
No link back
No links or images relating to our product or service
---
Front end shop
You get a front end store to sell your products.
You can set a custom currency, From $, £, € to ¥
You can set unlimited Combinations, say $1 for a day , $5 for a month of service or any other duration or cost.
You can sell reseller accounts and end user lines.
You keep 100% of profits.
Front site is 100% automated and users can buy reseller panels or lines and get instant activation.
---
Ministra billing portal key features
Fully automated billing system
Automatic deactivation of ministra account once subscription has expired.
Automatic activation of account when purchased from front store.
---
Lifetime means lifetime
Our lifetime licence is for lifetime.
Once you purchase there will be nothing extra to pay EVER.
---
Help and support
We are happy to help in any way we can to get you up and running.
We are here to help any way we can with any issues or questions and queries.
We aim to answer support requests within 48 hours but normally a lot less.
Please feel free to contact us if you have any pre purchase questions or have bugs or problems.
---
We have no hidden charges
All prices are fixed and you will never have to pay more than screen price.