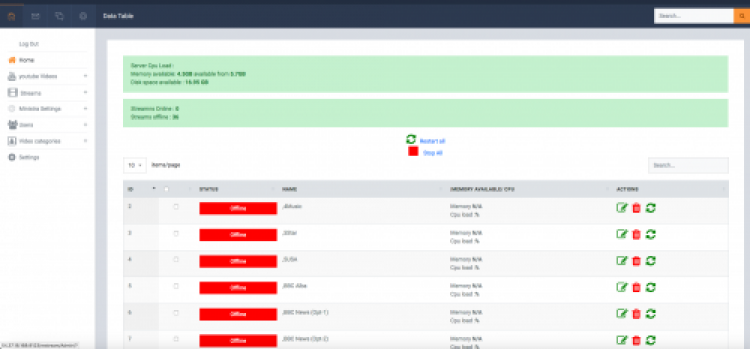 ---
IPTV Web player with PHP Media server
---
About
---
7 Day money back guarantee
Free updates for life
No hidden fees, What you see is what you pay.
Lifetime license.
Unlimited user accounts
Unlimited resellers
Unlimited super resellers.
Unlimited credit plans
php media server
---
Secure live streaming with anti leach
Streams can only be watched with a valid account
Use media server to restream xtream codes restreams
Import vod and live easily
Restream to most modern web browsers.
Import from Xtream ui
---
Now you can import live and vod directly from xtreame codes and ui api
automatic poster and information for vod
Automatic poster and info for live.
Sell you content
---
Sell subscription plans inside the player
Pay per view plugin
Sell you sstreams as pay per view inside player
You set price and length of pay per view item.
Automatic activation after purchase
This is for live streams only a the minute
VOD Coming soon
Key Features
---
IPTV Web Player included
Transcoder included
No hidden fees, What you see is what you pay.
Lifetime license.
7 Day epg supported for player.
Free epg service.
Epg daily update
Stream limitation
Each account will be limited to 1 connection per account
Will automatically disconnect when streaming to more than 1 device.
Apache and php media server
---
Restream to other providers and charge a fee for a limited amount of connections
Transcode to hls for streaming to most all other severs.
Transcode and sell your streams to other providers
You set the limit on how many connections for your users.
Once limit reached it will stop any new connections until the user stops watching on 1 device.
New Shopping cart
---
Sell plans directly inside player
Automatic activation after successful payment
Automatic deactivation when expired
Admin
Allowed to modify everything in admin, resellers and super resellers
Add credits to resellers and super resellers
Renew expired users
Extend users subscription up to 100 years
---
Resellers
Can resell web player subscription to other people
---
Super Resellers
Can sell web player subscriptions as we as resellers and super resellers.
---
Low cpu, ram and hdd usage.
---
Can be used with or without xtream codes.
Does not require a media server.
Use any valid m3u8 source.
Can run on shared host with source guardian installed.
PHP 5.6 to 7.2 Required
---
Requirements
---
PHP 5.6 - 7.2
Mysql 5+
Apache2
Source guardian loader
---
Admin panel included to manage your streams, Users, Reseller, Ads and more.
Key Features
---
Sell your subscription based player.
You set length and price per subscription.
Import many types of content.
VOD : Import from archive.org, Youtube and mp4 upload.
LIVE : Import from xtream codes, m3u upload and add single.
Create Series' With unlimited episodes per series.
ADD Unlimited VOD, Live and Series.
Create unlimited streaming accounts with expiry date.
Auto deactivation of expired accounts.
Stream to most modern html5 Browsers
---
Free updates for life
Never pay a penny extra,
lifetime updates
lifetime license
Admin key Features
---
Manage your player settings.
Add, edit and delete user accounts quickly and easily.
Terminate or expire any account with one click.
Setup adverts to earn extra money from ads.
Add, Edit and delete youtube videos.
Add, edit delete archive.org videos.
Add, Edit and delete live streams and vod.
Add edit or delete Series' and episodes.
Add, Update and delete epg data
Manage Admin user accounts, edit and delete
Supported Browsers
---
Supports most modern browsers
Amazon Fire TV with silk browser
Amazon fire tablets with silk browser
XBOX one browser
Ipad
Ipod touch
IPhones
Macbooks
Samsung tablets
Samsung phones
Windows pc
Chrome
Sefari
Firefox
Internet explorer
IOS Browser
Android Browser
Supports many many more devices that have a modern browser.